Typographic maps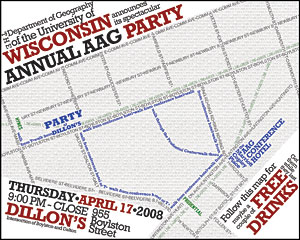 Recently I was asked if I could whip up a small flier announcing the UW-Madison Department of Geography's traditional party thrown on one night during the Association of American Geographers Annual Meeting (held last month in Boston). I came up with the image at right: a map made entirely of type. It was a hit with the crowd and was easy to make. I simply used Illustrator to trace lines over streets in a Google Maps screenshot, type on those paths, and add the extra type around the edges and in the background.
There are many fun examples of art with typography out there, but type maps in particular are something that you don't see often enough. (I suppose, though, if it were more common it would lose some of its appeal.) I'm sure there are more than I realize, but here are some examples I've managed to find:
Something on my to-do list of impossible dreams is to see if a basic typographic map could be produced programmatically by reading a shapefile or something. Keep an eye out; maybe something will come of the idea!
Tagged typography